Security
Security in ViOffice

ViOffice uses different mechanisms in its respective components, which aim at the security of the services. In addition to the regular audit of our systems for possible security vulnerabilities, we work with a multi-level encryption system.
All data traffic between you and our services is fully TLS-encrypted. Your data is protected from unauthorized access from your end device all the way into your cloud storage by strong encryption algorithms.
Our cloud and all services integrated in it, such as our office solution ViOffice Sheets or the calendar are encrypted on the server side by the user password. This means that not even we as a service provider have access to your unencrypted data, even if we wanted to.
Our chat service ViOffice Talk goes beyond this encryption. Its peer-to-peer (P2P) architecture allows true end-to-end encryption (E2EE). This makes your one-on-one and group conversations more secure than ever before, whether via text or voice chat.
In ViOffice Conference, all data is also encrypted before being transmitted to the server. To do this, the system uses a combination of TLS and DTLS-SRTP in group conversations and E2EE in two-person conversations. However, efforts are already underway to enable the option for E2EE in large groups as well.
Despite all efforts, a system and data access is only as strong as its weakest link. Passwords are classically this weak link. For this reason, we encourage our users to choose a secure password and to use the password manager integrated in ViOffice for all their accounts with other services. Nevertheless, two-factor authentication should also be considered for access to your ViOffice account.
ViOffice offers several options for two-factor authentication (2FA). Decide for yourself between the TAN code system for printing, one-time passwords via email, Universal Second Factor (U2F) or Timebased One-time Password (TOTP). All four 2FA systems are available in ViOffice via the security settings of your account. If you use them, it will be almost impossible for unauthorized persons to gain access to your ViOffice account.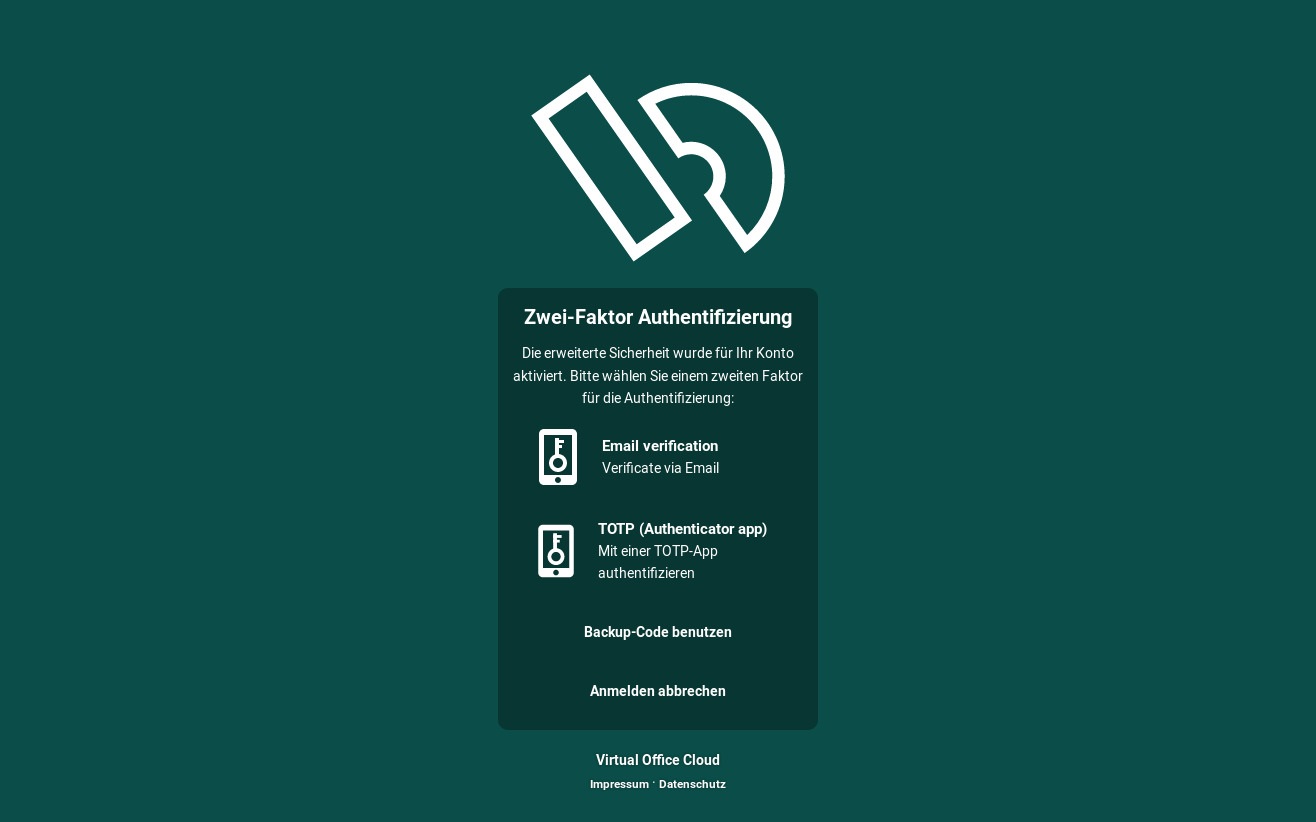 Two-factor authentication at VO Cloud login with mail, TOTP or TAN code

Although security and data protection are completely different topics, they can be mutually dependent. For this reason, we emphasize both aspects without losing sight of the functionality of our product.

// Set paths for language switcher